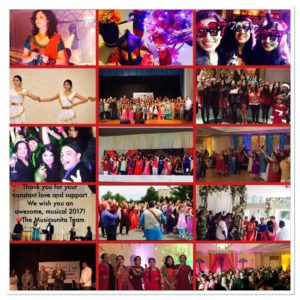 As the New Year dawns, we would like to thank each one of you for your constant love and support in helping us to bring to you the magic of Indian Music through MUSICSUNITA
We've had a truly eventful 2016! Indian Classical Recital, 'Saat Swaron ki Sarita', by Students from Musicsunita Academy, was well received by audiences. Our most popular Bollywood Karaoke Bi-Annual Special' Gaata Rahe Mera Dil',was a runaway hit. Annual Recital,'Ubharte Kalakaar', a stage for upcoming singers, supported by live professional musicians and a houseful audience, was well attended and ran for over 8 hours. Musicsunita Academy Students got innumerable performances opportunities throughout the year, giving them the confidence to sing with ease for audiences.Musicsunita LLC stepped forward to help in Community Efforts- Fundraising, Interfaith meets, Cultural awareness and representation, Sponsorships, and all that helped giving back to the community.
Musicsunita Professional Live Band and DJ Service has moved forward leaps and bounds in 2016 by traveling worldwide with live Bollywood Shows, entertaining thousands of audiences for Conferences, Destination Weddings, Fundraisers, Garba, Community Events, Ghazal and Film Concerts, Bhajan Sandhyas, ending with our Annual SOLD OUT BOLLYWOOD NYE Event, and all that is connected with Indian Music.
2017 at MUSICSUNITA has begun with a bang, with an addition of many more teachers and classes to Musicsunita Academy-Indian Hindustani Vocal, Bollywood Karaoke, Kathak, Tabla, Yoga, Bhangra and Gidda, and many new locations Mahwah, Closter, Ridgewood, Midland Park, Secaucus, Jersey City, Piscataway and Midtown Manhattan
We look forward to yet another exciting and enriching New Year, and hope to constantly receive your support in helping us achieve the goal of promotion and preservation of our rich music and culture!